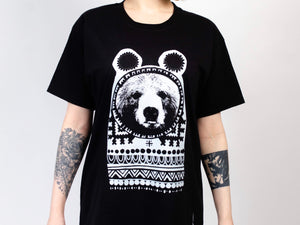 SPIRIT GUIDES by Ani Corvus ENG/FI
(Suomeksi alempana)
Ani Corvus is a Tampere based artist who makes art on skin as well as on paper, preferably on a recycled one. Her work is strongly inspired by nature potraying especially the flora and fauna of rough Finnish nature. She sees the beauty in the raw earth and feels calmness in the forest.
In addition to the connection with nature, Ani is interested in fairytales and folkore. Combining these two passions, Spirit Guides-collection came to life. 
"They say that there is a totem animal inside each of us. The animal guides us in difficult decisions and life situations and protects us when we need it. Animal that reflects our personality. Each animal has their own unique powers and they can advise us if we stop and listen. 
Inspiration for this collection came from the shamanistic world, its spirit guides and the nature of the North. Which one is Your spirit guide?" (Ani Corvus)
Ani Corvus (1991) on Tampereella asuva tatuoija ja kuvataiteilija. Anin teokset saavat voimansa luonnosta ja varsinkin suomalainen kasvisto ja eläimistö ovat toistuvia töiden aiheita. Hän näkee karussa kauneuden ja tuntee voivansa hengittää parhaiten metsässä. Luonnon ihmeiden tarkastelemisen lisäksi Ani nauttii saduista ja tarinoista.
Nämä kaksi suurta intohimoa synnyttivät "Henkioppaat"- malliston. 
"Sanotaan, että meissä jokaisessa on sisällä toteemieläin, joka ohjaa meitä vaikeissa päätöksissä ja elämäntilanteissa ja suojelee meitä, kun sitä tarvitsemme. Eläin, joka kuvastaa persoonallisuuttamme. Jokaisella eläimellä on omat ainutlaatuiset voimansa ja ne voivat neuvoa meitä, jos pysähdymme kuuntelemaan niitä. Inspiraatio tähän mallistoon lähti shamanistisesta maailmasta, sen henkioppaista sekä Pohjolan luonnosta. 
Mikä on sinun henkioppaasi?" (Ani Corvus)
---
1 comment